A1 School Presentation Boards for Winstanley College
Winstanley College is situated in Wigan, Greater Manchester and aims to deliver the highest standards of education to its students while also giving them the support and workplace advice they may need for after they leave. They are highly focused on developing the skills and knowledge that are important to young adults when entering high education or the world of work.
The college was first established in the 1970s and has become widely recognised for its strong academic record and vast range of courses as well for offering students high quality facilities for performing arts, music and art media. The college is also dedicated to equality and diversity helping prepare students for our multi cultural society. It prides itself on its outstanding OFSTED reports, which makes it a sought after educational facility for students in the UK.
In order to meet the College's display board needs, we recommended our triple A1 elevated poster boards.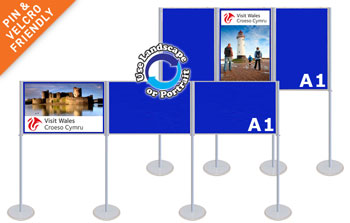 These popular school presentation boards can be used as either portrait or landscape and their sturdy poles and bases mean the stand can cope with the rigours of a busy college environment. If a larger display is required, the user also has the option of linking together a number of boards creating an impressive backdrop.
Posters can be attached using either Velcro or pins and the display panels are offered in 13 different colour choices. Each kit includes 3 x A1 double sided boards, 4 bottom poles that measure 1000mm x 25mm, 4 top poles that measure 855 or 608mm x 25mm, 4 small metal washers and 4 circular bases which have a 300mm diameter. Additional accessories such as carrying bags, spotlights and Velcro can also be purchased.
The lightweight but sturdy stand weighs 17 kg and has a lead time of 3 to 5 working days.
It comes with a five year guarantee against manufacturing defects and it is currently priced at £209.00 excluding postage and VAT.