7 Panel Folding Display Boards For BE.Dance
BE.Dance is a west London-based dance studio for young people. The classes aim to help build self-confidence in the students as well as helping them to develop their performance skills, coordination and sense of rhythm.
The dance school teaches a vast array of different dance styles and students have the opportunity to participate in the annual dance show.
BE.Dance was looking for a suitable display unit and after a discussion with our staff they opted for our 7 panel folding display boards.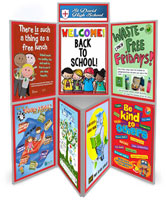 This popular PVC framed folding display board includes seven 900 x 600mm main panels, one 250 x 600mm central header panel, one triangular table top and one carrying bag. The unique integrated tabletop allows customers to display products and literature, which many of the standard display systems do not allow you to do.
Our customers can choose from an array of different colours including grey, primrose, cherry red or royal blue; customers can choose a different colour for each side of the display panels if they wish, and it is suitable for use with both Velcro and pins.
Its lightweight design makes the 7 panel folding display easy to carry around for presentations and it is simple to store for organisations that have limited space. If our customers require a larger display option, we also offer eight, nine and ten panel kits; please speak to our sales team for further details.
Customers might also wish to purchase one of our spotlights or one of our Velcro rolls for use with this display board. A comprehensive range of accessories is available to view online.
These popular presentation boards comes with a hardware guarantee of five years and have a 1-5 working day lead time.
The 7 panel folding display is priced at £188.00 excluding carriage and VAT.