A1 Display Boards for Simon Holdings PLC
Simon Holdings PLC, a niche market recruitment and printing business, has recently joined our client list. The company was established back in the 80s after the merger of a number of businesses and it is based in Walton on Thames, Surrey.
After seeking the advice from one of our team, Simon Holdings PLC purchased one of our single A1 display boards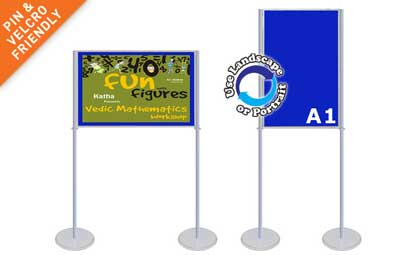 .
The display board package contains the following items: one double sided panel, two bottom poles, which measure 1000mm in height, two top poles, two pole washers and two circular bases, which have a diameter of 300mm for superior stability.
There are two different options with this display board: landscape or portrait. The landscape configuration comes with two top poles that have a height of 608mm and the top poles of the portrait option measure 855mm. For a small extra fee, our customers have the choice of using both landscape and portrait giving that total flexibility.
The poster boards are double sided and there are 13 different colours to choose from. Our customers can select a different colour for both sides of the fabric if they wish, and the display boards framework comes in black or grey.
The A1 poster board weighs 8 kg and it is suitable for most display needs including exhibitions, busy public environments, schools and universities.
The presentation boards can be linked if you need a longer display, and it is suitable for use with both pins and Velcro.
Lead time for the display board is 1 to 5 working days and the hardware is guaranteed for five years.
It is priced at £95.00 plus carriage and VAT.
Customers that buy this product might also be interested in our panel carrying bags, our pole carrying bag or base carrying bag.