New Table Top Display Boards for Fiveways School
Our company is proud to announce yet another new client. This time it is the Fiveways School, which has been rated as outstanding by Ofsted. The school is based in Yeovil, Somerset and it has been granted specialist school status for its commitment to communication and interaction.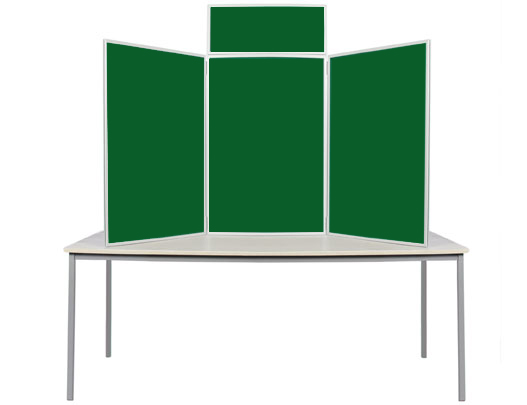 Fiveways School offers an excellent learning environment for children and encourages them to learn through numerous different senses, enabling children to develop their self-confidence. The school comes fully equipped with cookery, sensory and therapy rooms, a sports hall and an indoor swimming pool, and the nearby grounds give the children plenty of opportunity to get outside and play.
The school is able to cater for students with additional needs and a full-time language therapist is employed by the school to ensure the specific communication requirements of each and every pupil is assessed so that they can get the best out of the learning experience.
We supplied the school with a Maxi table top display with PVC frame. The lightweight display comes with three 900 x 600mm panels, a 250 x 600mm central header panel and a protective carrying bag, to safeguard the boards and allow for easy transportation.
Maxi table top display boards have either a grey or black framework and customers have a choice of thirteen different colours. If they wish, our clients can also select a different colour for each side at no extra charge.
Our desktop presentation boards can be used with both Velcro or pins and the entire system weighs just 3.5 kg. This lightweight option is very easy to transport so is ideal for taking to exhibitions, trade shows or any other visual presentation.
Display Boards UK can deliver the product within 1 to 5 working days and the hardware comes with a five year guarantee, so you can buy from us with total confidence.