Poster Boards for Gairloch High School
It is always a pleasure to welcome new customers so we are pleased to announce Gairloch High School as one of our latest clients.
Gairloch High School has 160 pupils and works hard to ensure that it has the broadest range of courses possible in order that it can cater for the varying academic needs of its pupils.
It is located in the parish of Gairloch in Ross-shire and it is known for its high educational stands and for its involvement with the local community.
When they approached us, they were looking for large display boards, which were preferably on wheels and could be used as both room partitions and poster boards.
After speaking to our experienced sales team, they opted to buy the four panel concertina screens. The package comes with 4 hinged screens measuring 1800mm high x 560mm wide and 8 lockable wheeled casters. It is a double sided display and posters can be attached using both pins and Velcro.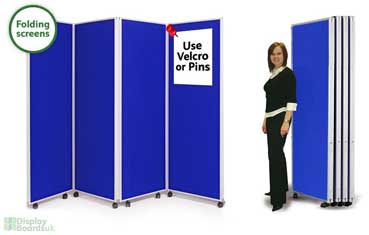 The display is perfect for anyone that wants to create a temporary room division or for an eye-catching poster presentation and the caster wheels make the display boards easy to transport around the premises, if required. It is suitable for use in both schools and offices and when they are not in use, they can be folded flat for easy storage.
The display board offers two different height options of either 5 foot or six-foot and comes in a range of set formations including 4,5,6,7 and 8 panels. The system has a sturdy aluminium frame, which is able to cope with the regular wear and tear it might encounter.
Customers who elect to buy panel concertina screens have the choice of eight Nyloop colours or 11 woolmix colours.
The four panel concertina screen display board is available for £295.00 excluding carriage and VAT and the hardware comes with a one year guarantee.
If you are looking for a display call us today for more help and advice.