The Bank of Ireland Invest in our Panel & Pole Display Boards!
The Bank of Ireland offers an array of financial services including day-to-day banking, commercial financing, online banking etc. Its headquarters are based in Dublin and it was first founded in the 1700s. The bank is one of the biggest in Ireland and we were more than pleased when they chose us to provide them with an effective advertising solution.
After speaking to one of our experienced staff, the Bank of Ireland chose to purchase our two panel modular display stand.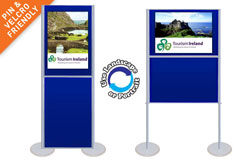 This adaptable panel and pole display comes with two panels that both measure 900 x 600 mm, two bottom poles that measure 600mm x 25mm, two top poles that measure 1200mm x 25mm in diameter, two panel support washers, which eliminate any panel slippage and two heavy circular bases, which have a diameter of 300mm.
The display boards are double sided and can be used with both pins and Velcro and customers have a choice of 13 different colours. The metal bases help to create a sturdy display unit and panels can be linked together in order to create a larger display.
In addition, sections of the display boards can be removed to offer a more diverse display unit to our customers, and the product is supplied in individual parts to allow for easy transportation and storage.
Our two panel modular display board costs £119.00 excluding carriage costs and VAT and weighs approximately 12.5 kg.
It has a lead time of 1 to 5 working days and the hardware is guaranteed for five years.
Accessories that complement our two panel modular display include our 900 x 600 mm panel carrying bags, our 1200 mm pole carrying bags and our base carrying bags.