Use Display Boards to Revamp Your Tired Office
Displays boards always have and most likely always will play a pretty important role around the average office. But while the role they play is indeed one of importance, they also tend to be regarded as something of an optional extra that's looked upon with very little sense of priority. This is actually quite a shame, as with a little proactive forethought and an investment in quality hardware, it's perfectly possible to use display boards not only as functional tools, but also to brighten up the office at the same time.
Now, the key to a good display board that actually gets used and noticed is versatility. That's why each and every one of the boards we have within our collection is both pin and Velcro-friendly – you can stick and pin them to your heart's content and they'll go on looking good as new. What's more, with such ease of use comes the option of opening one or more of the office's boards up to a little interactivity. Allow employees to post their own notices as and when the mood takes them and chances are your boards will become more of an integral part of the office than ever before.
Of course in order for your office display boards to be taken seriously, you'll need to invest in decent quality hardware to begin with. In terms of the various specifications on offer, each has the potential to be a valuable asset to the office and will undoubtedly add a good dose of colour and resourcefulness to its surroundings.
Standard Display Boards
For example, our standard display board collection features a wide range of shapes and sizes – all of which are designed for use as permanent or semi-permanent display areas for the office. Whether it's advertising products or services to clients as they enter, keeping employees up to date with company news or even displaying outstanding examples of work in any given classroom, you'll find just the size and specification to suit. Built to last and robust enough to withstand the pressures of busy office use, they're great for adding colour and convenience to offices for years to come.
Office Screens
It's amazing how easily and effectively a set of office screens can transform an open-plan office into a series of vastly more private working spaces. Office screens aren't just about hiding from your colleagues, they also help minimise noise, reduce distraction and allow for the safeguarding of private data. In the vast majority of instances, office screens actually improve productivity and output by creating a generally better working environment for those using them.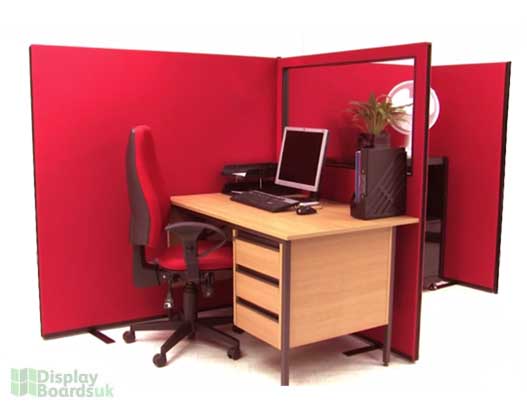 The added bonus that comes with all of our office screens as standard is that they also double-up as double-sided display boards. Both sides are 100% pin and Velcro-friendly, adding even more convenience to the private workspaces they create. They're also available in a variety of sizes and several bright and bold colours.
Room Dividers & Mobile Displays
From schools to offices to medical environments and so many other examples, room dividers and mobile screens can be incredibly useful and versatile assets. When a temporary or semi-permanent partition is needed for any reason, it's as easy as rolling out and unfolding one of these high-quality dividers to offer essential privacy to those on both sides.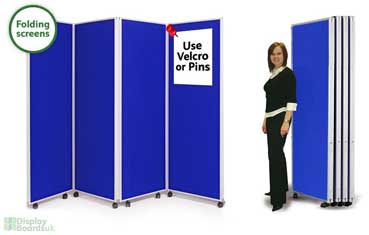 Once again, the added bonus comes in the fact that all room dividers we sell also double-up as display boards, with both sides featuring the same Velcro and pin-friendly surface coverings as the rest of our boards. So while they're not in use as room dividers, they can be transported with ease and used anywhere else for everyday display purposes.
Table Top Display Boards
One of our best-selling product ranges by far is that of our table top display boards – simply brilliant where space is at a premium. If it's wholly impossible to even think about taking up any more floor space, these simple yet highly effective table top display boards can do the job with the space you have available. Simple, compact, lightweight and exceptionally affordable, they have a million and one uses around schools, offices and all other workplaces alike. They're also perfectly portable and easy to store when not in use.
Accessories
Last up, don't forget to take home one or two essential accessories to ensure you get the very best out of your display boards. From Velcro rolls to carry bags to castors and spotlights, there's always something you can add to your existing boards to make them even more versatile and a genuinely valuable asset to the workplace.