Aluminium Display Boards for Rodwell Nursing Home
Display boards UK are proud to announce that we have been working with the Rodwell Farm Nursing Home Ltd.
Rodwell Farm Nursing Home in Addlestone, Surrey. The Rodwell Farm Nursing Home Ltd provides a modern day care facility to look after older people. It offers medical, nursing, and pastoral care and dedicates itself on the quality of care that is offered to each and every resident of the home. The staff strive to ensure the needs of each individual is met while also giving them a full and happy life in a safe and secure environment.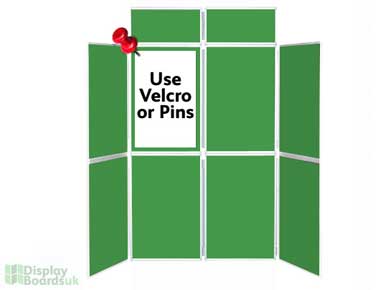 The home provides a specialist unit dedicated to the care of patients with dementia and the nursing home also provides day care for local residents that require it.
We supplied the nursing home with two different products. The first was an eight panel aluminium display board. This product is popular with our clients due to the fact that it is straight forward to assemble and light weight enough to be able to transport around easily. It also offers some flexibility to our customers as it can be separated into two different table displays, which means it gives our client's excellent value for money.
Purchases of the kit will receive eight main panels, which measure 900 mm in height and 600 mm in width and two central header boards; both measure 250 mm in height and 600 mm in width.
The item described above can be delivered within 1 to 5 working days and come in a choice of 13 different colours. Both sides of the display are suitable for use with both pins and Velcro.
In addition to the above item, the Rodwell Farm Nursing Home, purchased a five meter roll of Velcro. Our high quality Velcro is priced at £12 and is suitable for attaching presentation materials to the display boards.