New Display Boards After Flood Devastation
The Moorland and District Village Hall in Somerset was left devastated by a recent flood. However, after a nine-month closure, the popular village hall was revamped and reopened, and some of the locals were invited along to celebrate the reopening of this important community venue.
Devastating Floods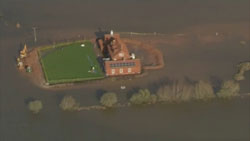 The Grand Reopening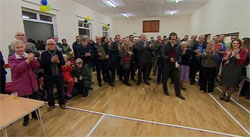 With the reopening complete, staff at Display Boards UK were only too happy to advise the Hall on the most suitable promotional display boards to meet their needs.
The Village Hall opted to buy our Pro-Link 10 panel 1000 x 1000mm display board. The assembled system measures approximately 2000mm high and the panels can be used as a landscape or portrait display.
Our Pro-Link 10 panel comes with 10 x double sided display boards measuring 1000 x 1000mm, 6 x bottom poles measuring 1000mm x 25mm, 6 x top poles, which measure 1000mm x 25mm and 6 x 300mm diameter circular bases.
The circular support bases included with the display give it added stability, and it is supplied in individual parts to allow for easy transportation and storage. If a larger display area is required, then additional panels can be easily added.
There are 13 different colours to choose from, and the five year manufacturer's guarantee covers the panels, bases and poles from manufacturing defects; this means our customers can buy with total confidence.
Posters and advertising material can be attached to the boards with Velcro or pins and there is an approximate lead-time of 3 to 5 working days. Suitable accessories include our carrying bag sets, rolls of Velcro and header panels.
The product is priced at £649.00 excluding carriage and VAT.