Modular Display Boards for the Royal Navy
In March 2015, The Royal Navy hosted The Queen on board the largest warship HMS Ocean. This took place at the HM Naval Base Devonport, Plymouth. As part of the preparation for this prestigious event, The Royal Navy purchased 5 of our 1m x 1m square modular display boards for their presentations.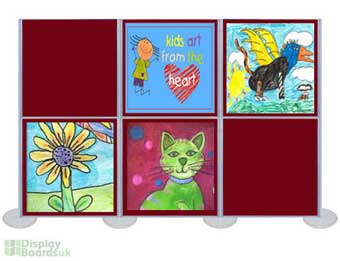 Our 1m x 1m square panel and pole display boards come with a choice of 2, 4, 6, 8 and 10 panels and are supplied with sturdy metal circular bases. You also have a choice of 13 different fabric colours for you display stand panels.
The system is easy to transport, especially if additional carrying bags are purchased. The bags ensure your stand and other accessories stay in good condition during transport and storage. Our range of bags include panel carrying bags, pole carrying bags and bases carrying bags. You can also purchase header panels, Velcro and spotlights.
There is a five-year manufacturer's guarantee on this product, so you can make your purchase with total confidence.